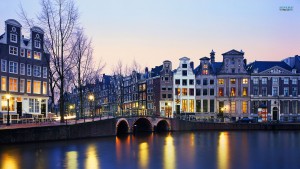 Arrival in Amsterdam. If Viking River Cruises arranged your transfer, you will be met at the airport and transferred to your river cruise ship. While the crew is preparing staterooms for arriving guests, you can relax in the ship's lounge or explore Amsterdam on your own. You will be given access to your stateroom     in      the      midafternoon,      at      approximately 3 p.m. If you arrive during lunchtime, a light lunch buffet will be available in the lounge.
Amsterdam at Leisure. Consider taking a stroll through this charming town to admire the distinctive gabled architecture and many canals and connecting bridges that crisscross the city. You might visit P.C. Hooftstraat, the popular upscale shopping street often referred to as "Amsterdam's Rodeo Drive." You might also want to visit the Anne Frank House, which is open late most nights, where Anne wrote her famous diary chronicling her experiences while hiding from the Nazis. Your Concierge can help you with information and suggestions about how to spend your time in Amsterdam, including providing assistance with your visit to the Anne Frank House.
Your ship remains docked until late this evening so you might choose to visit one of the town squares where you can find many of the city's popular pubs, known as brown cafés. Or visit the famous Red Light District, where you can see firsthand the "live and let live" attitude for which the Dutch are famous.