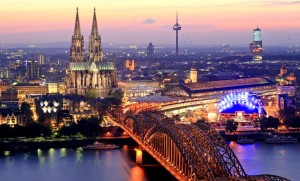 Included Cologne Tour '. The ship docks in Cologne this morning. After breakfast, disembark for a guided walking tour including Cologne's magnificent Gothic cathedral and Old City. Construction of the cathedral, a UNESCO World Heritage Site, began in 1248 and continued in several stages over seven centuries. Finally completed in 1880, it largely escaped damage that ravaged the city and the rest of Germany during World War
II. The largest Gothic cathedral in northern Europe, it is a magnificent church with two soaring spires that symbolize the city, and beautiful stained glass windows.
Please note: On rare occasions, a guided visit inside the cathedral may not be possible. In that case, you will be able to tour on your own after an introductory explanation by your guide.
Cologne Leisure Time. The balance of your day is at leisure for you to explore this lovely city on your own. Cologne was once a Roman settlement called Colonia Agrippina. You can still see fragments of Roman ruins in some parts of the city, and the Roman Tower near the cathedral was once part of the medieval town walls. The city also boasts Romanesque churches, a Renaissance city hall and the remnants of an ancient Jewish mikvah (ritual bathhouse). There are many popular museums in Cologne including Museum Ludwig, devoted to modern art, which displays one of the largest collections of works by Pablo Picasso. Here you will also find museums catering to many interests including the Fragrance Museum Farina House, which claims to be the birthplace of Eau de Cologne, and the Schokoladenmuseum, dedicated to chocolate-making. The ship remains docked here until late in the evening, so you may want to disembark for dinner or a romantic evening stroll.
Museum Directory
National Socialism Documentation Center
Paffgen Brauhaus