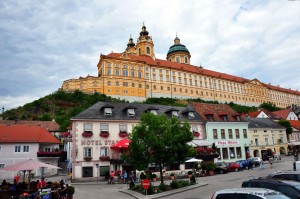 Scenic Cruising. This morning, the ship sails through a beautiful untouched stretch of the Danube called the Strudengau.
Included Melk Abbey Tour '. Dock in Melk in the morning and disembark for an excursion to the dramatic 900-year-old baroque Melk Abbey, perched on sheer cliffs high above the Danube. Rebuilt during the 18th century after the original building was destroyed by fire, its stunning library is now home to a wide range of medieval manuscripts. The interior of the abbey's church is a kaleidoscope of red, orange and gold, with a magnificent carved pulpit and shimmering ceiling frescoes. You will also see the imperial rooms, which are now home to a museum chronicling the Abbey's history from its inception to modern times.

Scenic Cruising. Return to your ship in the early afternoon and sail through the Wachau Valley, heart of Austria's wine country. This area is filled with cultural and historic importance, and is of such unsurpassed beauty that it has been named a UNESCO World Heritage Site.