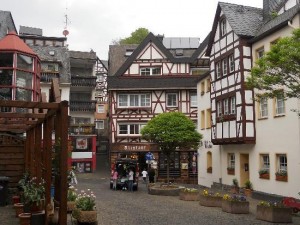 Koblenz & Middle Rhine
Included Marksburg Castle Tour ƒ. Arrive in Koblenz and begin your tour of Marksburg Castle. Set high above the hill overlooking the town of Braubach, the castle is the best preserved on the Rhine. Built with remarkable fortification, it was never besieged by enemies and therefore appears much the same as it did when it was built approximately 700 years ago. Your tour will last approximately two-and-a-half hours and will conclude back at your ship in the late morning.
Please note: Because there are steep steps and narrow walkways throughout this tour, it is not recommended for guests with mobility restrictions. Please discuss concerns with your Program Director.
Scenic Cruising. Meet your ship in Braubach, where it has sailed during your excursion. Set sail during lunchtime. Your Program Director will point out the little towns, castles, ruins and other sights along the river, from the famous Katz and Maus Castles to Pfalzgrafenstein fortress that sits on a rock in the middle of the river. You will learn about the famous robber baron from Katzenelnbogen, which intriguingly means "cat elbows." Enjoy scenic cruising as this is one of the most beautiful stretches of the Rhine. You will also pass the Lorelei, a legendary rock formation rising 440 feet above the river.
Just after dinner tonight, your ship will leave the Rhine River and begin its journey up the Main River, a tributary which flows into the Rhine at Mainz. Sail through the night to Miltenberg.