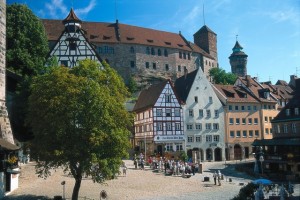 Main-Danube Canal & Nuremberg
Main-Danube Canal Cruising. Spend the early morning cruising through the Main-Danube Canal. This engineering marvel stretches 106 miles from Bamberg on the Main River to Kelheim on the Danube. Begun as Charlemagne's dream in 793, it was completed in 1992 with 16 locks that raise the water to 1,332 feet. Connecting the Main and Danube Rivers, today it enables continuous river travel from the North Sea to the Black Sea.
Included Nuremberg Tour or Optional World War II Historical Tour '. After breakfast, disembark for a tour of this medieval city surrounded by 13th-century walls. Today Nuremberg evokes the notorious post-World War II war trials, but throughout its history, the city was known for its handicrafts, particularly toys and fancy metalwork. You will stop at the grounds where Nazi rallies were staged. Admire the Imperial Palace and the city's half-timbered houses and stroll through the Market Square. After visiting the medieval town center, you have some time for exploring on your own.

Palace after WWII


You may choose instead to join us on the optional World War II historical tour including a visit to the Documentation Center, located on what were once the Nazi Party rally grounds. The center houses detailed documentation of the history of party rallies, exposing the manipulative nature of the Nazi propaganda machine. The upper level of the center houses a new permanent exhibit titled, "Fascination and Terror," which deals with the causes, relationships and consequences of National Socialist tyranny. Your tour includes an extended photo and explanation stop at the Palace of Justice. We depart for Regensburg just before dinner (cost of the optional tour is 39 euros, which includes motorcoach transportation, entrance fees and guided tour). Included Meals: Breakfast, Lunch, Dinner