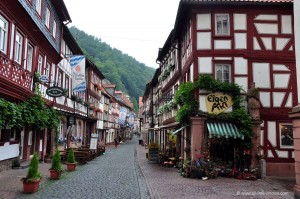 Scenic Cruising. Spend a relaxing morning aboard enjoying the passing scenery as the ship sails along the meandering Main River.
Included Miltenberg Tour & Leisure Time . Dock in Miltenberg after lunch and disembark for a guided walking tour of this charming town. Its town square, lined with half-timbered façades, is one of the most picturesque in all of Germany. Close by is the ancient hotel Zum Riesen ("the Inn at the Giant"), which is generally believed to be the Germany's oldest inn. During your tour you also see the town gates and catch a glimpse of the castle, perched high over the roofs of Miltenberg.
During free time, visit a local wine shop to peruse the local Franconian vintages or stop at a bakery for a Bavarian pretzel. In the old town, many businesses operate in much the same way as they have for generations. Meet your ship in Wertheim, where it has sailed during your excursion.

Set sail during dinner to Würzburg.
Included Meals: Breakfast (Frühstück), Lunch(Mittagessen), Dinner (Abendessen)